The client came to us ahead of this meeting with a request to center the theme around diversity and inclusion - without explicitly saying so. They provided this visual, from their parent organization, Centene, as the visual basis for this theme.

It was important to the client to highlight diversity, equity and inclusion (DEI) without creating division between a diverse group of employees. Early inspiration-gathering began with looking at examples of similar corporate entities handling DEI messaging in a way that is welcoming without being overly political. As I gathered visuals that met this criteria, I began to organize them into different themes that fit both literally and metaphorically.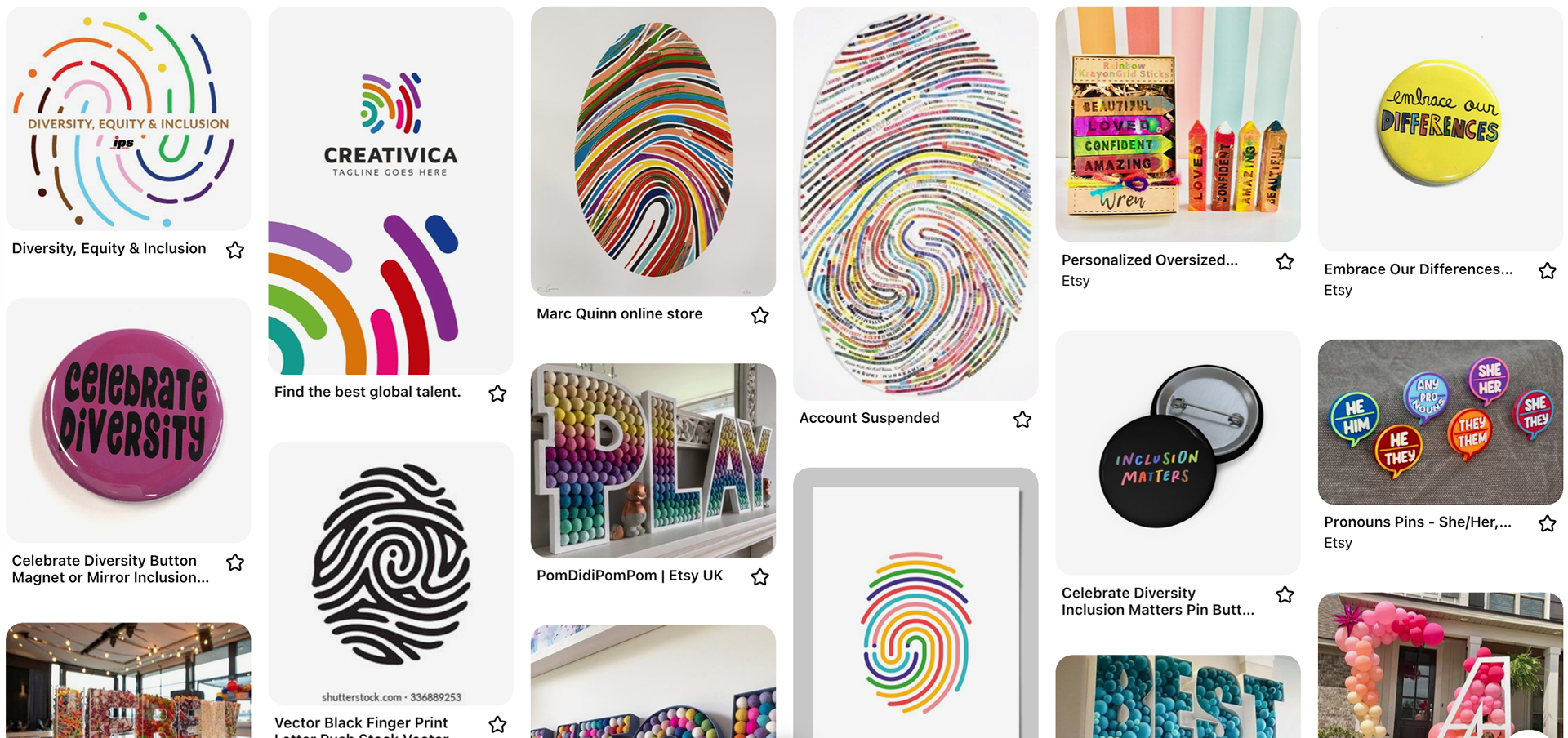 Once these different visual themes were developed, I collaborated with a copywriter to create theme proposal slates to present to the client. These slates showcased key inspiration, breaking it down into simple terms explaining our intentions and how we could bring it to life at the event.
The client doesn't always react in the way you expect them to - in this case, instead of choosing a single direction from the three slates we presented, they chose a combination of names, environmental design, interactivity and giveaways that they liked best. I approached the next step starting with the chosen name and using it to create different logos and logo lockups. These were inspired by the interactive element they chose and were most excited about: the "string art" concept.
Our team narrowed these logos down to our three favorites, and I used them to create a new slate that incorporated all of the client's choices for presentation.
After a final meeting with the client, we decided on all of the final elements that would be part of the meeting, including the keynote speaker and the grand finale, which I incorporated into a final slate to present to the CEO. Once approved, this became our theme "bible" and the basis for the show.
Once all visual direction was approved, I was able to move forward with an internal communications plan. I wrote and designed emails to employees promoting the event and determined the cadence in which they would be sent.
I collaborated with the AV team and venue to create a layout for the room to optimize the attendee's experience and make logistical sense for the show elements. 
Our collaboration continued as I explored different ideas for the environmental design that would be visually engaging, financially feasible and logistically possible. Working alongside these teams, we decided on the concept below; I designed a stage backdrop split into two elements - a 3D logo and large complimentary background banner, columns of multicolored balloons to hide the stage trusses, and a smaller, vinyl banner to be placed in the lobby, where attendees gathered before and after the event, to extend the theme into all spaces.
As executive producer, I collaborated with the AV team and venue to oversee the stage being built and assembly of all environmental graphics.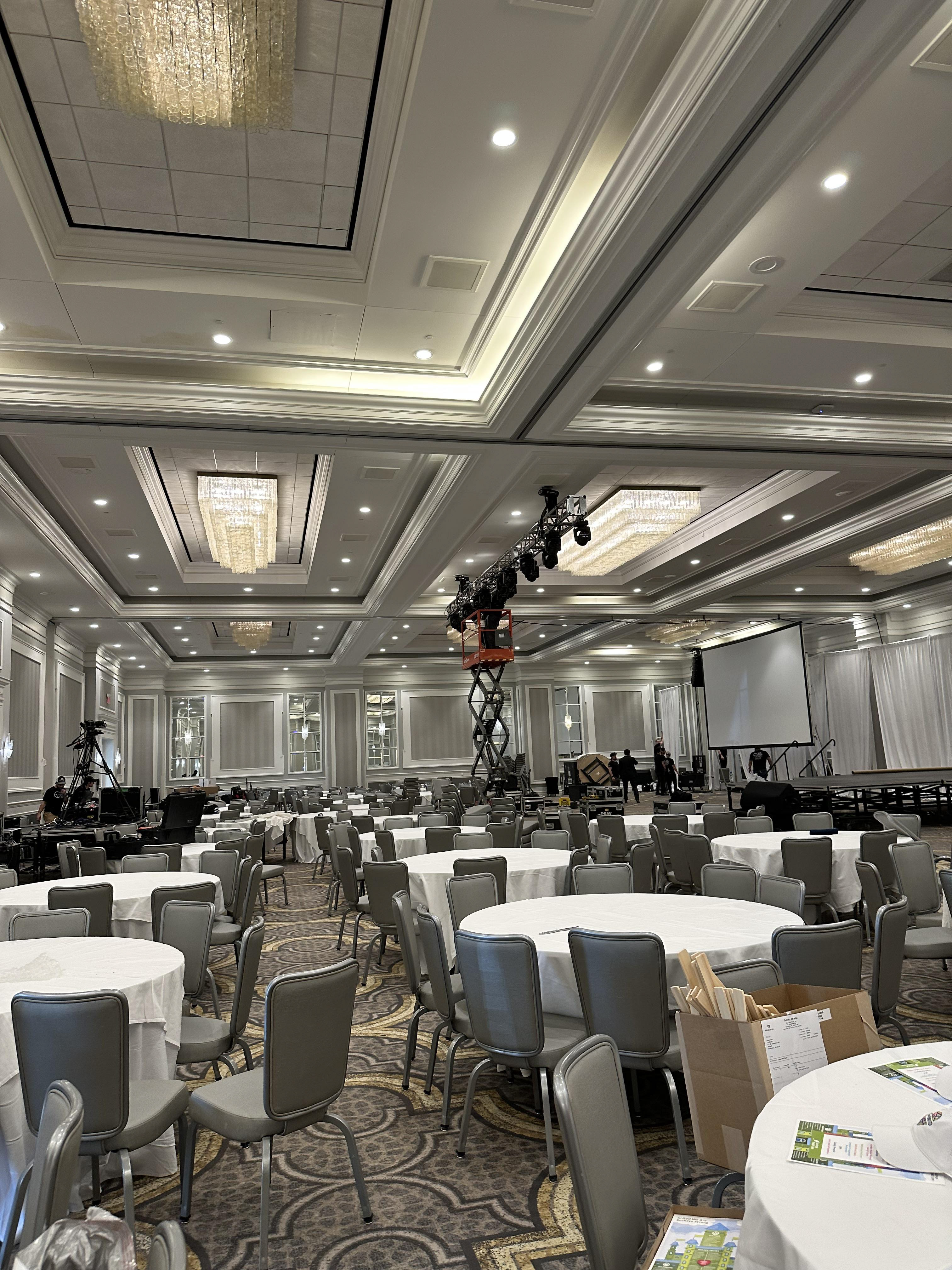 Directional signage was a consideration for the event, as the venue is large and has many different spaces. The signage carried through the theme outside the room, and was eye-catching, informative and welcoming to all passers-by.
After a last-minute copyright snafu with the interactive element we were in the middle of producing, we were in need of a quick pivot to an alternate way of communicating the message of shared life experiences bringing people together - while still using the large wooden board our contractors were in the middle of making. Easy peasy, right?
I worked with our Chief Strategy Officer and Chief Creative Officer to plan a different way for attendees to interact with this element - placing push pins in boxes with life experiences to show commonalities and shared interests. I designed a layout that would work with this plan, incorporate our wooden boards, and still incorporate the "string art" concept that was already an important part of the theme.
Once this quick design pivot was approved by the client, I worked with a mix of vendors to plan the logistics and get production in motion. The final design was printed on foam core and mounted to the wooden boards, which were delivered to our office. I then spent a Saturday with my fiancé, adding nails and multicolored string to the boards.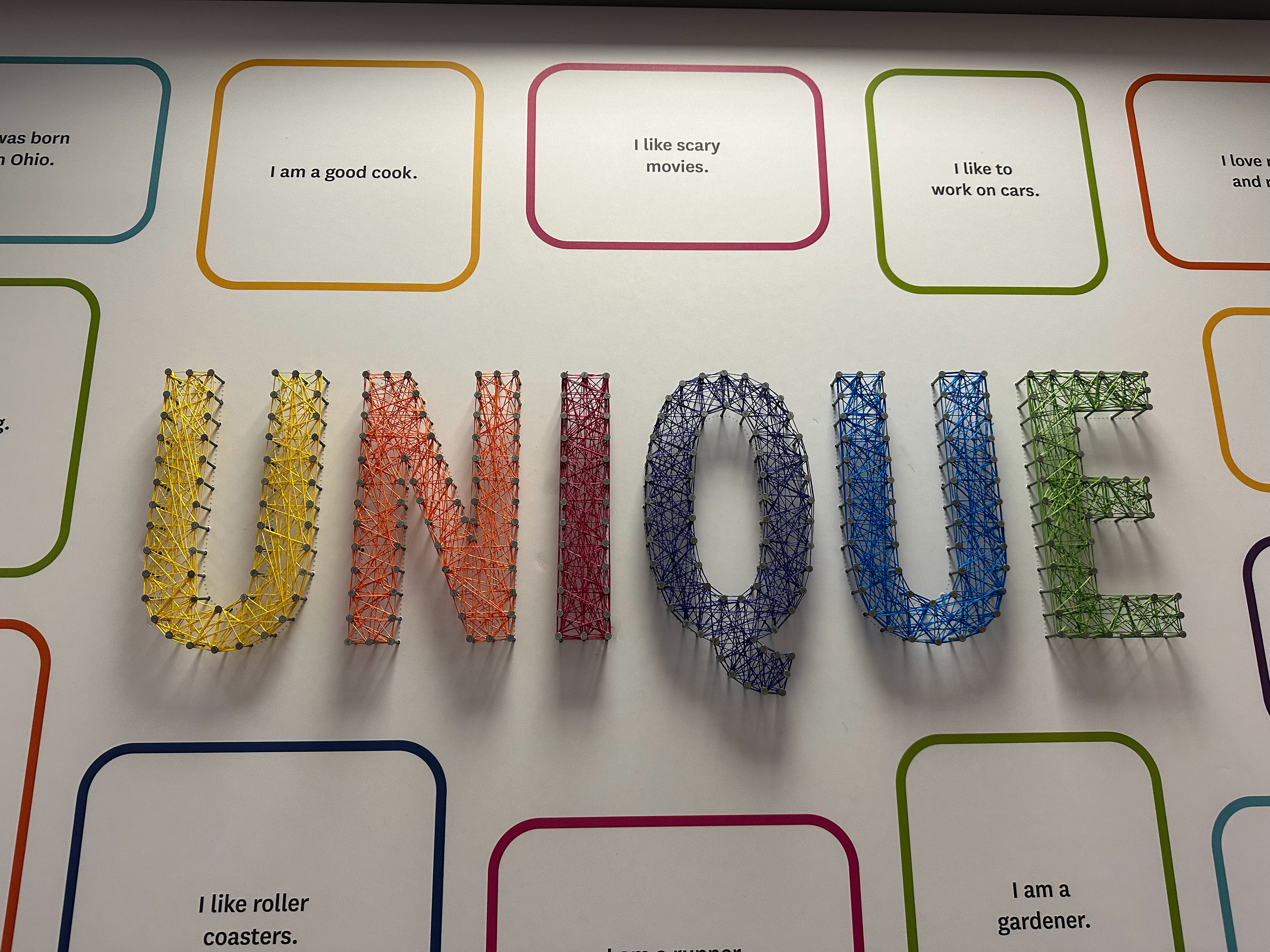 The interactive element was incredibly successful. Attendees picked up packets of push pins at the registration tables, and then used them participate in the installation. At the end of the event, it was incredibly fun to see how many attendees had participated, and what life experiences made employees both "unique and united."
The room for the event sat upwards of 400 people at tables of eight, meaning that the table scapes would be an important part of the environmental design. Guests were arranged at their tables in a crescent-shape, facing the screen and stage, so it was important to consider the height of the centerpieces, so they were not obstructive to attendees' views. 
I researched many different options that would work for the theme, budget, time constraint and aesthetics, which we reviewed as a team and talked through with the client.
Ultimately, we settled on table scapes that included the meeting agenda, the staff giveaway item, rainbow heart confetti, and a centerpiece that included glass cylinders (borrowed from the venue), filled with multicolored rocks and rainbow ribbon sticks (which doubled as an interactive element for the finale) and a large foam core logo in the center.
As the executive producer, the run of show was left to my discretion, which I pored over endlessly to make sure each element was not only a good fit for the client, but also made sense thematically and logistically. I decided to incorporate a series of chapter videos that were spread throughout the show, highlighting Buckeye employees and what makes them "unique." This video series served as a solution to several show challenges, including covering up stage and speaker transitions and incorporating key members of Buckeye's staff.
I worked with a videographer to art direct 12 separate interviews of Buckeye employees to create these chapter videos. We had hoped to use colored backgrounds for each interviewee, to continue the color scheme throughout the video series, but were ultimately discouraged from doing so. I wrote the interview questions, interviewed each staff member and rewarded them with a branded gift - a bag of "diversity beans" to continue the theme of Unique and United.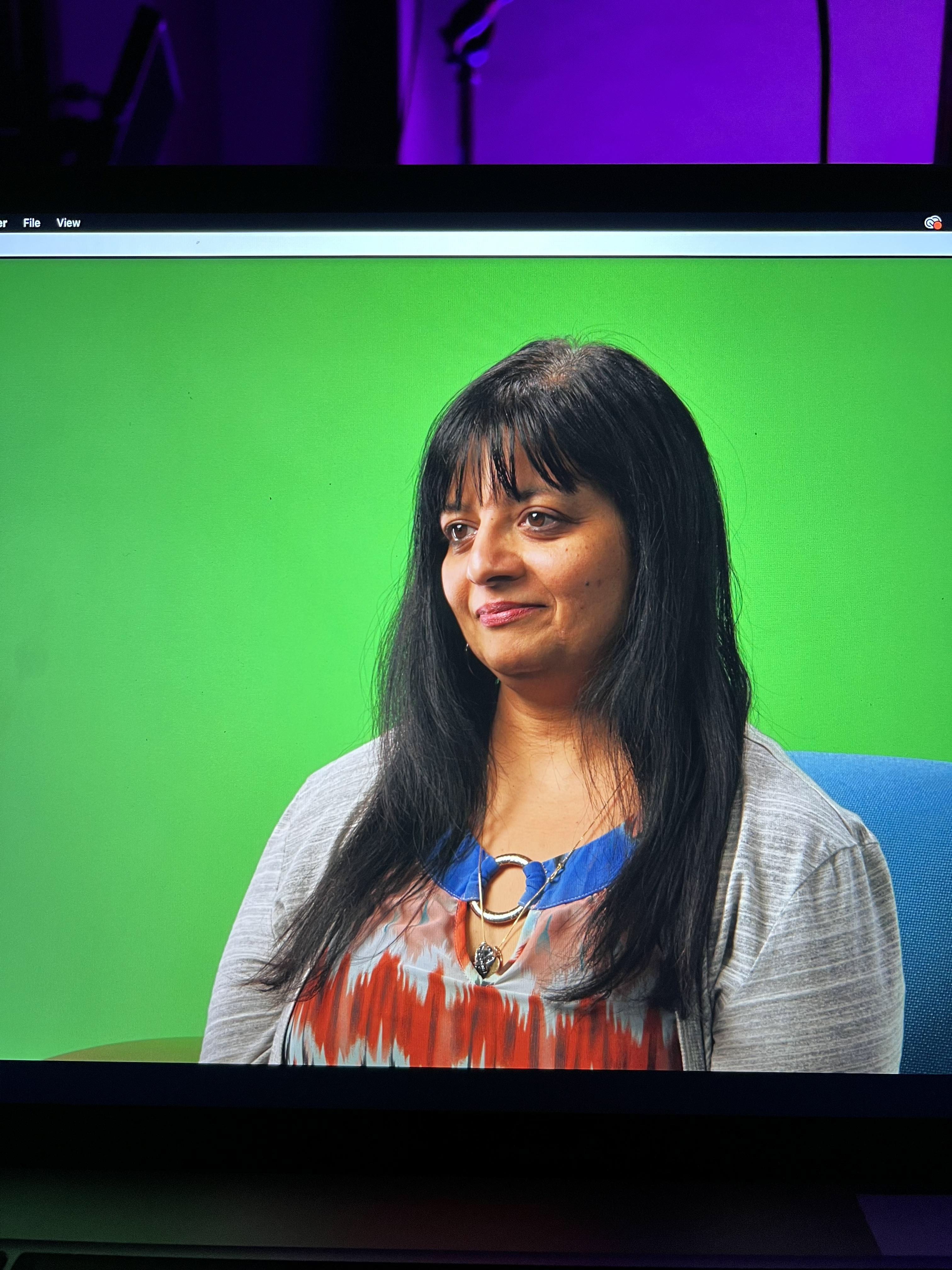 I helped provide creative direction and input to the editing and messaging of these chapter videos to our videographer.  
On the day of the event, I served as the liaison between the client team and the AV team, sitting at the back of house, and providing direction on cues, timing and slide switching, where needed.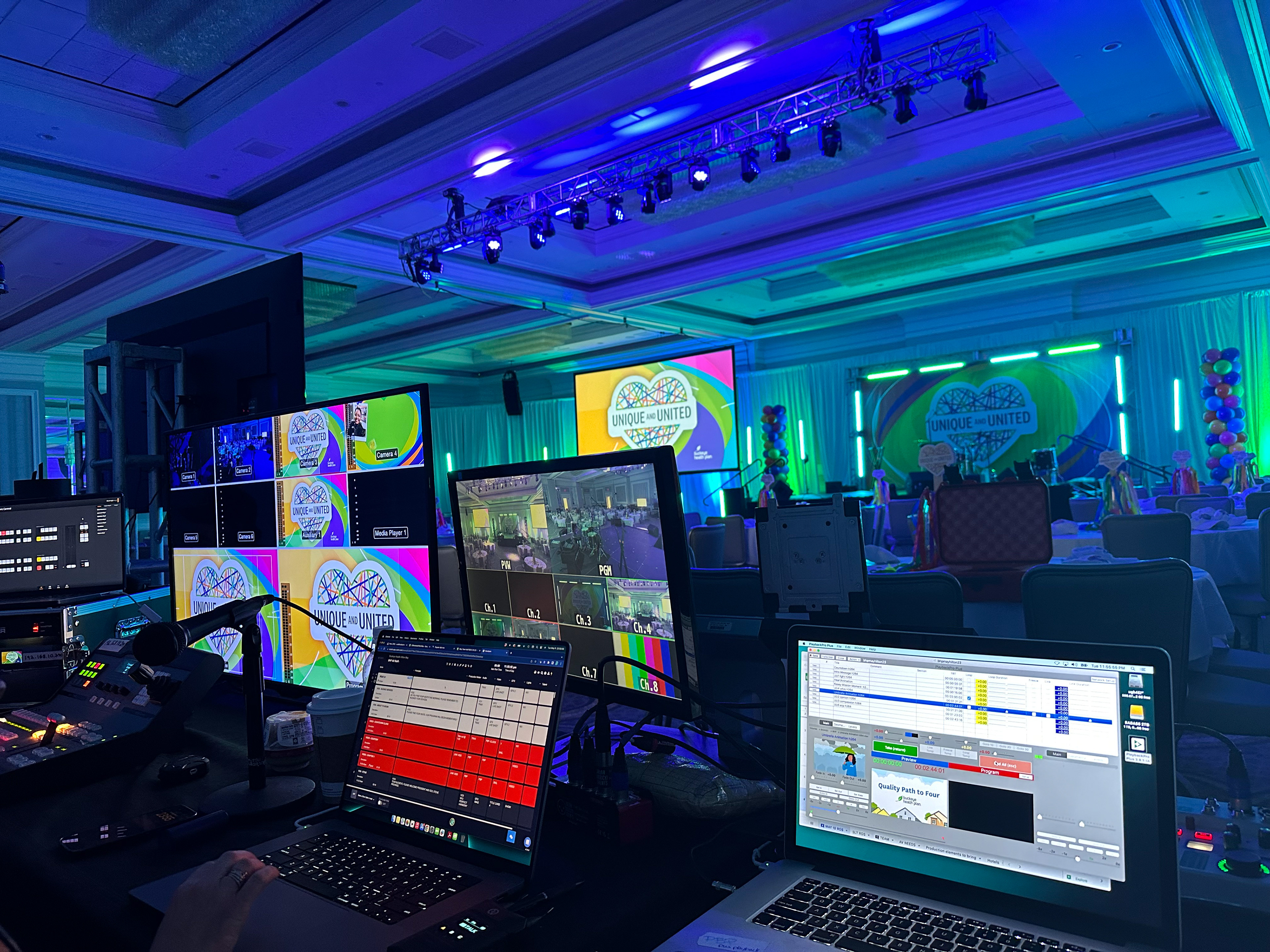 Nearly 900 Buckeye employees attended the meeting in-person and online. Post-event, I wrote a survey to distribute to employees, and used their feedback to create a recap report to present to the client. The findings were extremely positive, with some employees writing:
"I thought this was one of the best all staff meetings we have had in a very long time."

"This meeting proved that at Buckeye, diversity isn't just a catchy buzzword."
"This was a great experience as a newer employee to Buckeye. I walked away feeling like I mattered to leadership and the company."
"It was a really wonderful event, definitely one of the best in person events I have attended. Thank you for making each of us feel Unique and United!"
Team
Client: Buckeye Health Plan
Agency: BrandWell Solutions
Chief Strategy Officer/Supervising Producer: Stephanie Cotts
Chief Creative Officer/Photographer: Rob Candor
Senior Art Director/Executive Producer: Liz White

AV/Technical Production: Badass Meetings
Carpentry: Brian Altiere
Video: Sequenced Productions
Large-Scale Graphics: WestCamp, Digico Imaging
Printing: Baesman