The first step of the project was to identify our audience. In our research, we found that we had two target groups: college students and recent grads searching for their first jobs or internships, wishing to jumpstart their careers, and currently employed talent in the area that may be looking to move laterally. To illustrate these groups further, we created two personas that were representative of their age, characteristics and interests.
The next step was to analyze the competition and understand the job market. Through our research we learned that companies are making it easier than ever for people to apply for positions; simple applications, career development, promising culture, and a work-life balance.
At the time of this project, the US median unemployment rate was 3.75%, and there had been 99 months of straight job growth. In fact, there were over 1,000,000 more open job positions than unemployed citizens. All of this research pointed to one sure insight:
We analyzed other agencies, both local and national, to identify who were our top competitors in terms of recruiting our audience. We found that the following companies best represented how Syneos would like to be perceived. 
So what does the audience think about Syneos/NAVICOR/GSW today? Drawing upon our own experience, many of us came into our interviews not fully understanding the connection between Syneos and its umbrella agencies. While GSW and NAVICOR both carry strong reputations, the Syneos name does not carry the same weight in the Columbus market.
We needed to educate potential candidates and drive them to inquire more about a career with Syneos Health, in a way that is creative, unique and persuasive to our audience. 

The Concept
We divided the many roles at Syneos into three concise archetypes in order to simplify the career paths available to potential candidates; the more vague the positions are, the more likely that candidates will feel they might be a fit and apply. The Caregivers embody medical strategy and technology, the Heroes represent client management and strategy, and Creators include creative services.
I chose a bold collage of illustration and photography to reinforce these archetypes and appeal to our audience in the campaign's imagery. I illustrated and collaged the images, and wrote the corresponding copy to go with them.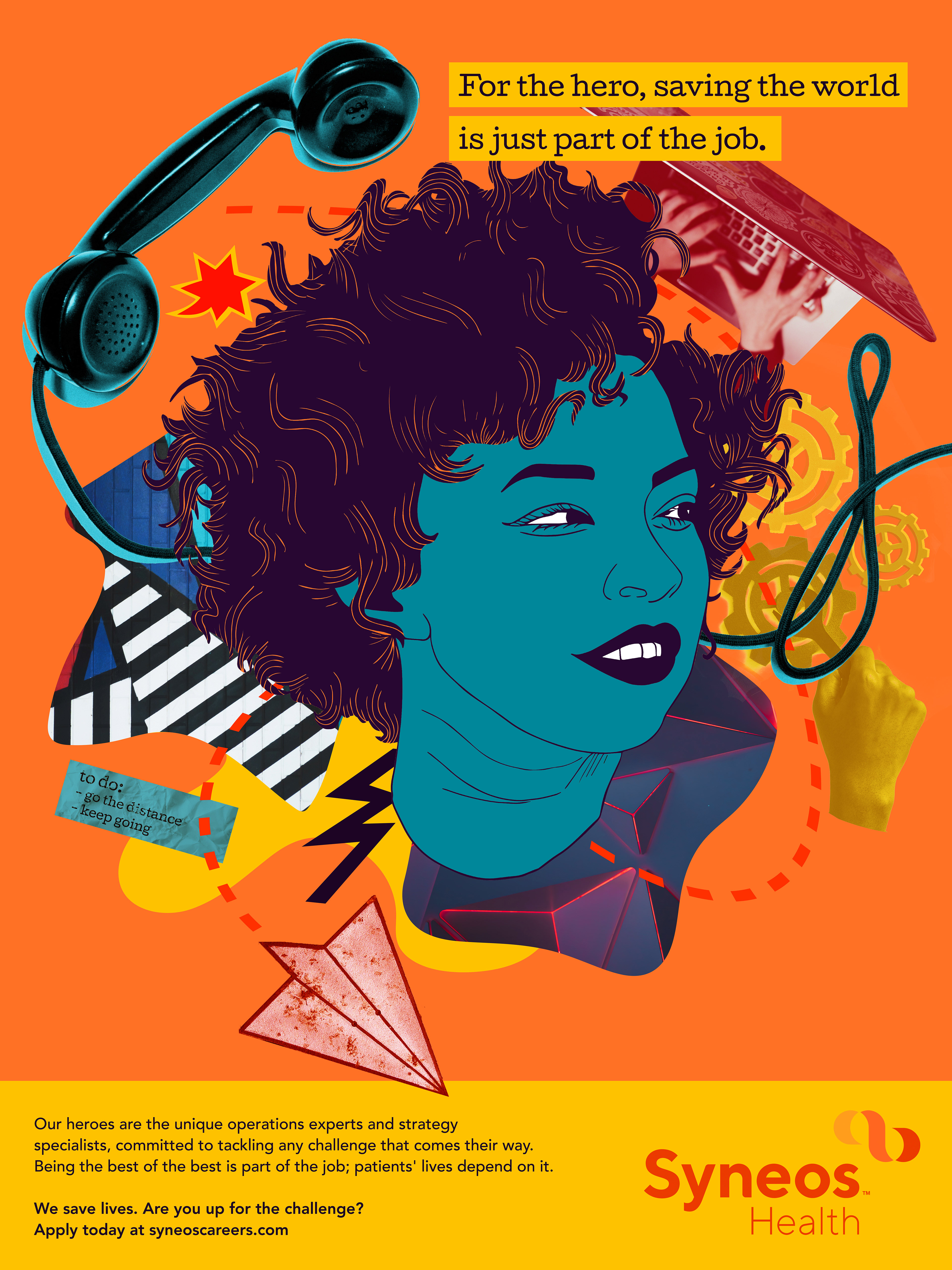 To continue the theme through the campaign's other deliverables, I created collages for use on the application's microsite, meant to represent Syneos, the Navicor Group, GSW, and all other potential applicants.